Scroll down the page to find your event, then fill in the RSVP form at the bottom of the page:
---
Artist Mia Savarese is "Finding the Music!"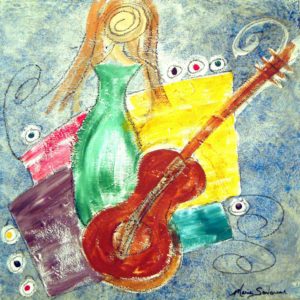 Come to an evening of Art and Music:  Saturday, June 3rd from 7:00 PM to 9:00 PM
The Academy of Music and Dance welcomes Mia Savarese as an Artist in Residence. Mia is a local Spotswood resident and artist. A story featured in NJ Discover Spotlight on Jersey Strong on January 5, 2014, describes Mia (also known as Maria Savarese) as a Mother, Artist and Survivor. Her life journey has been extraordinary. She tells her story through her art, with vibrant color and intensity. Her artistic mission is "Banjo meets Grand Piano" and will be celebrated with a special evening on June 3rd beginning at 7:00 PM. This art show is a treat for all the senses!
BRING THE KIDS: There will also be a special art class going on in one of the Academy studios just for the kids while you enjoy the whole experience!
RSVP by filling in the form below or on Facebook.
Watch an interview and check out her amazing story!
---