We apologize for the inconvenience not being able to reach our school. Comcast and Verizon will be performing an inspection to fix this issue on Monday February 26th. In the meantime you may reach us at 732-561-2191.

Beginning 2018 we would like to announce that our Academy of Music and Dance will be merging with our Mozarts and Einsteins Preschool of Integrated Arts and Academics at 175 Gatzmer Ave Jamesburg, NJ 08831.

 Open house March 3ed from 10am-1:00pm. RSVP by October 20, 2017. Give us a call to RSVP 732-521-2400
"We believe that everyone, from toddlers to adults, can enrich their lives through music and the pure joy of dance" – Melody Stevens, Owner

Welcome to Academy of Music and Dance! This is our 25th year in the community!  If you're looking for music lessons (guitar, piano, voice, etc.) or dance classes (hip hop, ballet and contemporary) near East Brunswick, Monroe, Old Bridge, or Spotswood, NJ you've come to the right place. Our college educated music teachers and dance instructors at Academy of Music and Dance have trained thousands of students from Middlesex County, NJ since 1992.
Located on Main Street in Spotswood, NJ, we specialize in early childhood piano classes and ballet, children's music lessons and dance classes, rock bands, musical theater, music lessons and private dance lessons for teens, and custom private music and dance lessons for adults. We offer instruction on virtually all instruments including piano, voice, guitar, drums, violin, flute, saxophone, cello, bass, ukulele, clarinet, trumpet, trombone, and more. We offer hip-hop, ballet and contemporary dance classes for all ages.
We welcome students of all levels of ability and talent; from beginners to advanced. We also welcome students with autism and other special needs. Lessons and classes are offered weekday afternoons and evenings, and Saturday mornings and afternoons. Parents love saving time in their busy week coordinating lessons on multiple instruments and dance classes for all family members at the same time.  

Tuition includes:  Bi-annual recitals with unlimited tickets – plus, current clients can book unlimited practice time in our private studios!  Music lessons also include books and music.  Dance classes include costume for recitals.  NO OTHER STUDIO OFFERS ALL OF THIS.
We invite you to come visit our spacious, clean, and comfortable facility.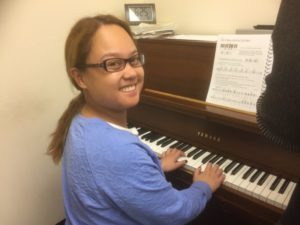 Private Lessons are available all year round – sign up anytime!
 Group Lessons including Tap/Jazz/Ballet Dance class, Little Mozarts, and Magic Black Box Theater Players enroll by semester.  
Enroll now for Fall/Winter beginning September 11, 2017. 
Call our helpful staff at 732-251-3050 or 732-521-2400 to find out more about our programs or email academyofmusicanddancenj@gmail.com.  You may also fill out out contact form.  ~ PLUS  Check out our upcoming EVENTS!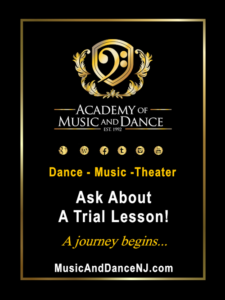 PRIVATE LESSONS OPEN TO ALL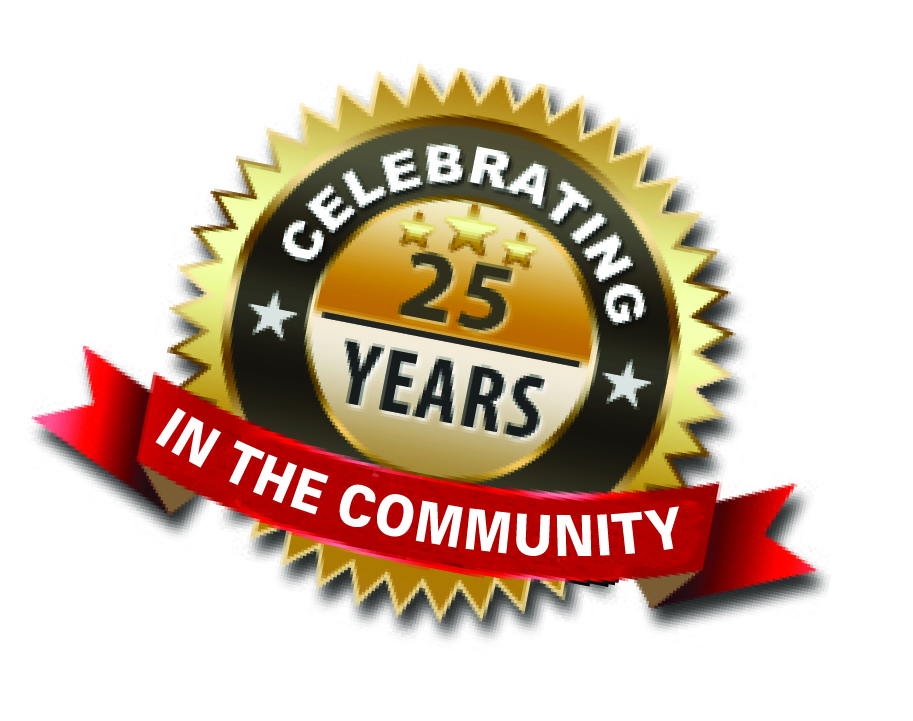 Whether you're a beginner, picking up where you last left off or just dusting off cobwebs, the Academy of Music and Dance offers private music and dance lessons, including:
Guitar/Bass/Violin/Viola/Cello (Acoustic and Electric)
Flute/Saxophone/Trombone/French Horn
Vocals/Voice
Piano/Keyboards
Drums/Percussion
Ballet/Jazz/Tap/Hip Hop
And MORE!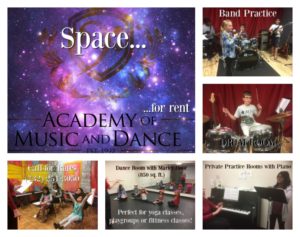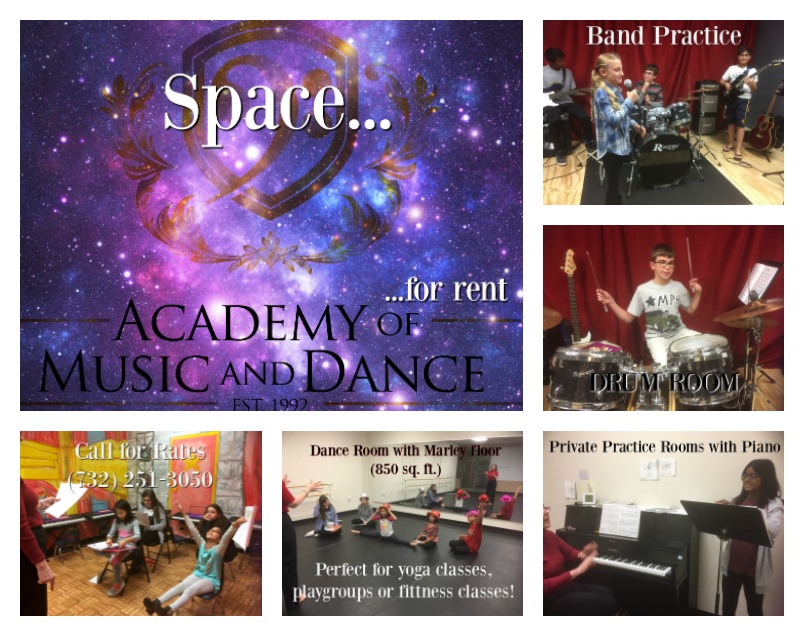 Our facility is available for room rentals at very reasonable rates!  Available on and off hours for PRIVATE PARTIES, CLASSES or REHEARSALS.  We have private practice rooms with piano, ensemble rehearsal rooms, rock band room, solo drum rooms and a 850 square foot dance room with Marley flooring perfect for fitness or yoga classes, theater or dance rehearsals and children's playgroups!
SHARING THE ARTS IN MIDDLESEX COUNTY FOR 25 YEARS
Established in 1992 in East Brunswick, NJ, as the Music Factory Learning Center, we began as a small community music school on the second floor above a deli, teaching private music lessons. In 2005, we expanded into a brand new shopping center in Spotswood, NJ, changed our name to Academy of Music on Main Street, as well as added ensembles and an early childhood music program. By 2008, we had grown to over 600 students. In 2014 we added dance classes and music therapy programs to better address the needs of our community and became the Academy of Music and Dance. We are excited to begin our 25th year of sharing the arts in Middlesex County, NJ.
Located in Spotswood, NJ, serving the Middlesex County area, including Monroe Township, Old Bridge, Helmetta, Freehold, East Brunswick and Jamesburg.
Schedule a personal tour today!
Business Hours:
Monday: 12:00 pm – 9:00 pm
Tuesday: 12:00 pm – 9:00 pm
Wednesday: 12:00 pm – 9:00 pm Closed from June 1st to August 31st
Thursday: 12:00 pm – 9:00 pm
Friday: 12:00 pm – 8:00 pm
Saturday: 9:00 am – 3:00 pm
Sunday:  Closed
Call: (732) 251-3050 | Email:  AcademyOfMusicNJ@gmail.com
Academy of Music and Dance
www.musicanddancenj.com