Academy of Music and Dance
www.musicanddancenj.com
"We believe that everyone, from toddlers to adults, can enrich their lives through music and the pure joy of dance" – Melody Stevens, Owner
AMD offers a friendly, inclusive environment where all levels of talent and ability are welcome and encouraged. Our knowledgeable instructors and staff are committed to the motivation of every student to bring out that innate talent within themselves.
Our ensemble courses are practical hands on opportunities where all students are inspired to not only learn about the arts, but actually get to live the arts as they create, compose, produce and perform their own material.
Whether they are the star of the show or a stage hand with the Magic Black Box Theater, the lead guitarist or roadie for the AMD Rock Band, Hip Hop Dancing on a float or filming a video at a local parade or Singing the National Anthem at a Raven's home game, they get to experience what it takes to make it on the big stage.
Twice a year AMD students Create, Produce and Perform in an epic stage show for friends and family as preparation for a future amongst the stars.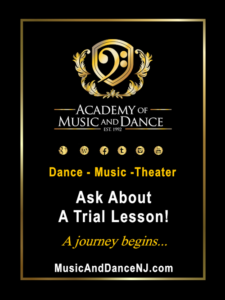 PRIVATE LESSONS OPEN TO ALL
Whether you're a beginner, picking up where you last left off or just dusting off cobwebs, the Academy of Music and Dance offers private music and dance lessons, including:
Guitar/Bass/Violin/Viola/Cello (Acoustic and Electric)
Flute/Saxophone/Trombone/French Horn
Vocals/Voice
Piano/Keyboards
Drums/Percussion
Ballet/Jazz/Tap/Hip Hop
And MORE!
SHARING THE ARTS IN MIDDLESEX COUNTY FOR 25 YEARS
Established in 1992 in East Brunswick, NJ, as the Music Factory Learning Center, we began as a small community music school on the second floor above a deli, teaching private music lessons. In 2005, we expanded into a brand new shopping center in Spotswood, NJ, changed our name to Academy of Music on Main Street, as well as added ensembles and an early childhood music program. By 2008, we had grown to over 600 students. In 2014 we added dance classes and music therapy programs to better address the needs of our community and became the Academy of Music and Dance. We are excited to begin our 25th year of sharing the arts in Middlesex County, NJ.
Located in Spotswood, NJ, serving the Middlesex County area, including Monroe Township, Old Bridge, Helmetta, Freehold, East Brunswick and Jamesburg.
Schedule a personal tour today!
Call: (732) 251-3050 | Email: info@musicanddancenj.com or use the form below.